I have a social media habit. But it's not the kind of habit you might think. It doesn't encompass my every waking hour. I engage once in the morning and then pretty much leave it alone after that. Here's what I generally do every day.
First, I start with Facebook. I scroll through to find anything interesting, especially posts from my three kids. Then I check out LinkedIn. Who's invited me to connect? Who's endorsed me? Who's looked at my profile? I check out an article or a random post.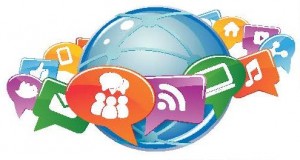 I don't muck much with Twitter except to search on #stcorg and #stc13 . After looking at these two searches, I usually just close it. I might check out Instagram, but usually only because one of my children has posted there. Next, I check out the ST C Board of Directors site to read any new posts. And I check my iPhone to see if there is any pushed content I find interesting.
One morning, though, things were particularly active. I kept getting new posts all over the place. Bing here, ping there, bop over there. (Ok, not audibly; metaphorically, but you get the idea.) I could barely keep up. For some reason that I didn't totally fathom, I wanted to check them all out. It quickly became took much, moving back and forth, forth and back, that it all became, well … chaotic!
When that thought hit me, it just brought everything to a halt. Is social media just chaos, and we've all been sucked in to the flurry? While my computer and smart phone kept pinging and popping, I began to wonder. What if social media is a manifestation of the chaos theory? Well, that just might explain a lot.