Okay, this is somewhat of a metaphorical post. Still, I expect that you can apply the concepts of this story to your own "mountains" that you need to climb and summit.
A few weeks ago, I backpacked with my friend Bill. What's great about going into the wilderness for a few days with Bill (in this case, four days) is that we communicate so well, respect each others needs, and consider them throughout the trip. This kind of deep communication becomes especially pointed living in the woods when your kitchen and bedroom are in the pack on your back.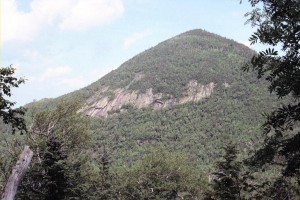 This trip, our goal was to summit four of the forty-six 4,000-foot peaks in New York's Adirondack park. (Actually, there are only 43 such peaks. Apparently, past climbers couldn't measure very well, but history dictates compliance with their inaccurate measurements.) Four days, 32 miles, 12,000 feet of elevation gain, fifty-pound packs, all planned with a guide book last published seven years ago—an eon for the Adirondacks where landscape-altering storms are the norm.
While we had a general idea of the summiting trails, we also knew that routes and conditions would be different—in two cases, markedly different as it turned out—from descriptions written at least seven years ago, and probably eight. We knew this going in, and we knew that we would be trying to get the latest conditions, from whoever we crossed paths with, always an eye-opening and trusting endeavor.
Ultimately, we knew this: our ability to ask clear questions, listen attentively, engage in the dialog, focus on outcomes, and accurately assess information would be crucial to the success of our trip. In other words: simple, clear communication. (You knew that was coming, right? If not, look at Solari's home page.)
So we did this. Whenever we met someone on the trail who was amenable and willing to talk, we engaged them. In return, we gathered a lot of pertinent information (some conflicting that we reconciled by assessing the source). We discovered three significant facts: one trailhead wasn't where we thought it was; a rumored trailhead relocation was indeed fact and that its trail had been substantially cleared over the previous years; and that one trail was overgrown although still passable.
In the end, we discovered that the information we gathered was accurate on the ground. We did summit all four mountains. And, as a bonus, garnered a couple of sources for summiting future mountains.
Think of how, in a metaphorical sense, these same events happen to you. Think how simple, clear communication could have helped clear your path and enable you to summit your mountain.
–Rich Maggiani